THE 11TH ANNUAL
BARRIER FREE

5k
fEBRUARY 11, 2023 |  7:30AM
Congress Avenue Barrier Free Park, Boynton Beach, FL
FINISHER MEDALS · RACE SHIRTS · ACCUCHIP TIMING · 5K RUN/WALK ·  1-MILER ·  VIRTUAL OPTION
This event helps to raise money for the expansion of the Congress Avenue Barrier Free Park. This park was specifically designed to accommodate individuals with disabilities, young and old, by providing a place to play, laugh and live without limits.
The race stretches through beautiful Hunters Run Golf & Racquet Club. Flat, fast & scenic course 
This event helps to raise money for the expansion of the Congress Avenue Barrier Free Park.
THE 11TH ANNUAL BARRIER FREE 5K
WHEN: FEBRUARY 11, 2022 at 7:30AM
PACKET PICKUP: 
Early Packet Pickup Friday February 10, 2023
Time: 5-7pm
Location: Arts & Cultural Center, 2nd floor in the event hall
Address: 125 E. Ocean Ave., Boynton Beach, FL 33435
Parking: Parking is available on Ocean Avenue, and in the parking lots behind the Arts & Cultural Center and East of the Schoolhouse Children's Museum
The Packet Pickup will be in conjunction with Joe DiMaggio Children's Health Specialty Center Magic Wheels & Special Deals event. Please join us to witness the unveiling of this year's Magic Wheels for a special child that will lead the Barrier Free 5k on Saturday, February 11.
In addition to the "Magic Wheels" unveiling, this free event, which runs from 5 pm – 8 pm, will include vendors, activities, and music. An ASL interpreter will be provided.
Race day packet pickup from 6AM on race morning at the race site (Congress Avenue Barrier Free Park)
HIGHLIGHTS: Finisher Medals, Race Tech Shirts*, Age Group Awards, Overall awards, Finisher Certificates
2023 Race Shirt – NAVY BLUE
Shirts are offered to the first 125 registrants. 
Any leftover shirts will be distributed on a first come first served basis after the race at the race site.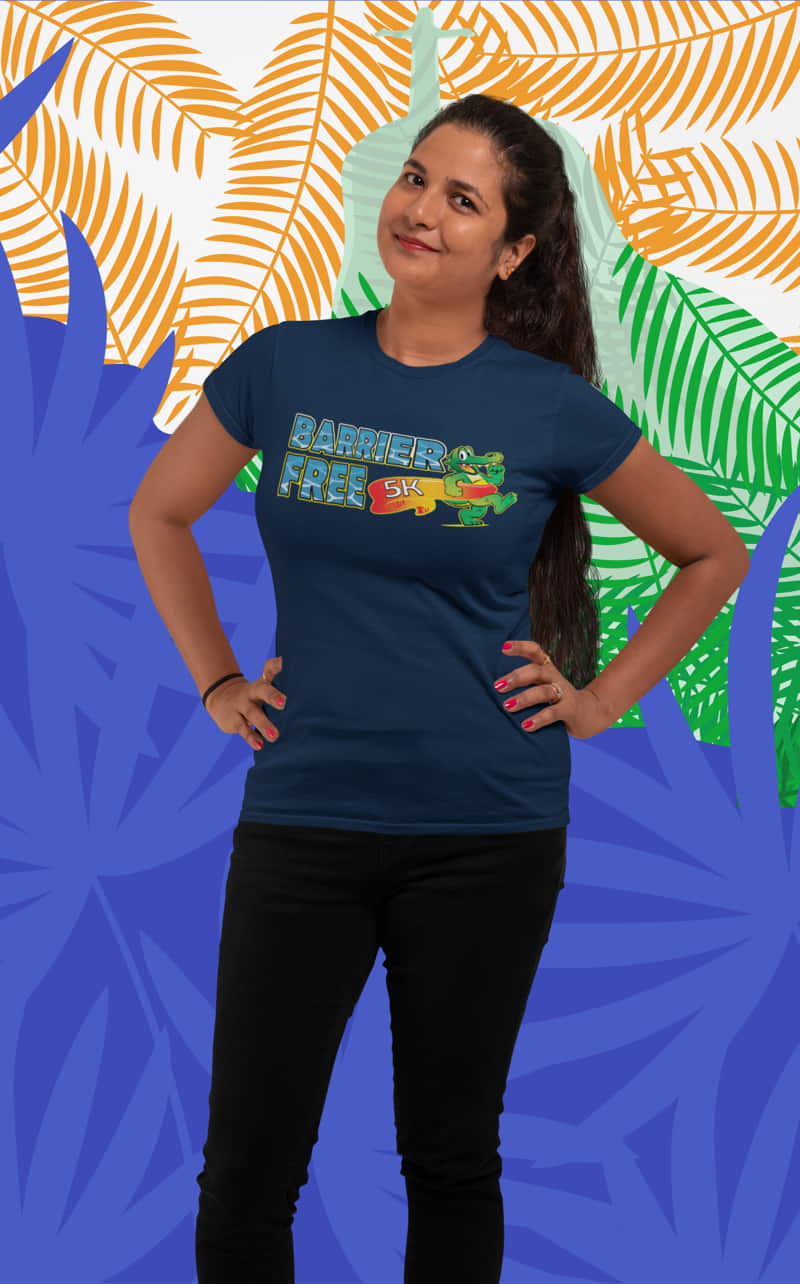 Willy-X Podcast
Patty Rezakhani came on to the WILLY-X Podcast to chat about the Boynton Beach Barrier Free Park & Barrier Free Park 5K!
Thank you Willy for the opportunity and your generous donation of gift cards for our winners and free coffee for participants and volunteers on race morning. 
ABOUT
CONGRESS AVENUE BARRIER FREE PARK
Congress Avenue Barrier Free Park
3111 S. Congress Avenue
General Information
Acreage:  37.76
Park Hours:  Sunrise – Sunset; lighted facilities open until 9:00 p.m.
Amenities
At the park: fitness trail, pavilion, picnic tables with umbrellas, benches, drinking fountain, open play area, specialty play structures for different age groups and all abilities, spray-ground, accessible restrooms/family restroom.
At the Tennis Center:  17 Har Tru and 4 composite tennis courts, restrooms with shower, drinking fountains, canopied areas with picnic tables.
Historical Information
This is the location of the City's barrier free playground, park and Tennis Center. Three separate sections of land were acquired over a period of time and the City eventually had 30 acres of property. The property was given to the City before 1979, prior to there being any requirements for land dedication from developers. Five acres were given to WXEL as the public television station grew.
The Tennis Center was built in three phases. There are 17 Har-Tru and four composite courts. Adjacent to the tennis courts and the Pro Shop are canopy areas with tables and chairs. The west side of the property backs up to a lake and in the center of the property is a small pond. There are wetlands on the property planted with native vegetation.
Realizing the need for a barrier-free park in Palm Beach County where over 187,000 disabled residents reside, in 2005 representatives of agencies that offer services for special needs individuals, including the United Way, United Cerebral Palsy, Lions Club, American Red Cross, The ARC and Deaf Service Center were invited to participate in a design charette to determine the elements needed in a "barrier-free" park. The design charette helped to create the master plan for this very unique and special park. Construction of the first phase of the 13.5 acre Congress Avenue Barrier Free Park began in 2010. The park is designed to accommodate people of all ages and abilities on an equal level.
The park is themed around a Florida Swamp. The central public space was designed to allow access to three play areas, two of which have been constructed, and the third will be constructed during a future phase of development. One is a free formed play structure that resembles a spider.  It emulates the insect critters of the swamp. The other is a fish camp theme. The two ponds on the park are connected through a metaphorical "stream bed" that allows children and adults to climb through and experience rocks, spray misters, water and nature. Trails meander through the park leading to the different play and sensory experiences.
Other park features include restored wetlands, picnic areas, and restrooms. Ultimately, the purpose of the park is to create an exciting, inspiring and accessible passive park and playground for adults and children of all ages and abilities to enjoy.